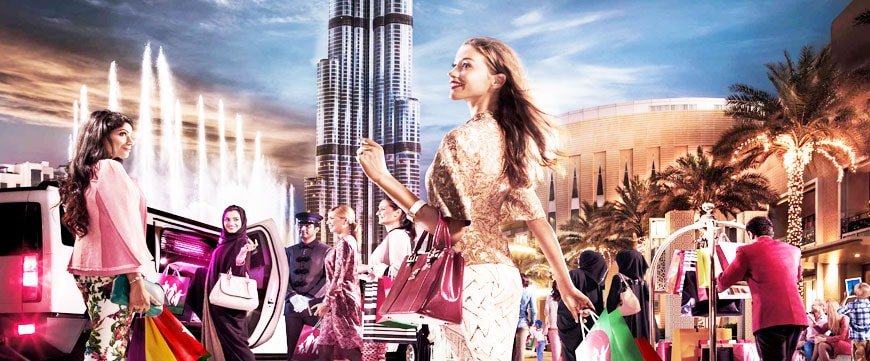 To explore the shopping malls and to discover the traditional souks, shopping gems, quaint stores and chic boutiques, take a private tour to Dubai. Customize your shopping experience and fulfill your wishes of shopping by planning Shopping tours in Dubai. Informative tour guides will be among you to provide you complete shopping experience and entertain you. They are also aware of so many languages. If you want to purchase fabrics, art, gold and spices then browse traditional souks.
Car Hire For Dubai Shopping Tour
Dubai is one of the shopping paradises in the world, during shopping festivals it becomes the city of gold and heaven for bargain hunters. The plus point is the country's tax free status during Dubai summer surprises. While your shopping fiesta in the tour, you will visit malls like BurjumanLamcy Plaza, Al Ghuraircentre where most items are branded, Wafi city and City center where all brands are accessible in one roof. The famous street of textile and electronics is Bur Dubai where you can bargain as well on the products of different sorts. There is a shopping place in Dubai called Karama where you can bargain handicraft items, souvenirs traditional and garments as well. Deira Al Nasar is the heaven of carpets and electronics in Dubai. If you want to buy the best gold souqs in the world at affordable prices then come to Deira the city of gold.
Car with Driver Service For Shopping Tours In Dubai
Plan your tour and travel in style by hiring luxury vehicles in Dubai. You are planning a shopping tour in Dubai and worried about the vehicle during your shopping then it will not be a problem anymore. You just need to choose our car hire services to make your shopping tour reliable and accompanied without any hassle or problem. It will be of great delight to you if you do not want to drive and want someone to drive for you while you make yourself busy in doing shopping in great malls of Dubai. We are providing luxury car hire for shopping tours in Dubai in hassle-free manner and our friendly and smart drivers will make your journey more comfortable so that you can do shopping without any problem. Our drivers are brilliant on routes of Dubai and always assist you with utmost concern and cooperate with you in all manners. We would like to assist you in all your vehicle related needs. For luxury car or luxury van hire for shopping tours in Dubai, you can contact us without any hesitation or trouble. Our staff will contact you in a very short time interval to respond to your inquiry and help you in picking or booking your vehicle. To get in touch with our support time for short time inquiry, you can also use the chat now button and our customer team will respond to you instantly.
Car Rental For Shopping Tours In Dubai
You can choose cars or vans from our wide variety of vehicles depending upon the type of your trip. You can make bookings for our car rental services depends upon your budgets, as we have economy rental models or luxury rental models of different sorts of cars. Our traveling agency allows you to browse and select the economy or luxury car rental for shopping tours in Dubai which suits you the best. You can rest easily once you book our economy or luxury car rental model as you will have to pay affordable charges and travel easily on dependable vehicle whenever or wherever you want it. Our luxury van rental for shopping tours in Dubai is also available for you while planning a tour to Dubai. In the last few years, Dubai has definitely become a cosmopolitan metropolis with tremendous growth. It can be called crossroad of the Persian Gulf and Middle East region. Due to tourism, its financial strength has become excellent and driving the government for new infrastructure. If you want to make your journey an ultimate luxury at its peak then contact us for luxury van or car rental services to visit Dubai in true meanings. We will provide you classy models of different sorts of classy vehicles with chauffeur while you are busy in shopping at beautiful and luxury malls in Dubai.
Related Tags: Shopping Tours Dubai - Shopping Tours in Dubai - Car Hire for Shopping Tours Dubai - Luxury Car Hire for Shopping Tours Dubai - Luxury Van Hire for Shopping Tours Dubai - Car Rental for Shopping Tours Dubai - Luxury Car Rental for Shopping Tours Dubai - Luxury Van Rental for Shopping Tours Dubai